Every meal should feel like a celebration. The Bamboula Kitchen takes Caribbean cuisine and makes it more fun than ever before for all of South London's casual dining crowd. No matter your age, background or craving, Bamboula Kitchen has the dish for you served with a smile. Drop in Wednesday through Sunday for great live music and a welcoming family atmosphere.
History
Bamboula is a term used to describe an energetic African dance which is performed in the streets to singing and drumming. The dance includes a class and response song which is orchestrated by the Bamboula queen. This queen often brings together large groups of people to celebrate or take part in a few scandalous activities. The name Bamboula is also used for" bammies" which is a cassava bread found in the Caribbean. It only makes sense that Lawrence and Marlene Fearon would choose Bamboula as the name for their welcoming, exciting and delicious restaurant.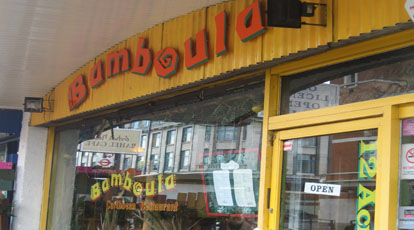 For Lawrence and Marlene Fearon, Bambola is all about providing South London with the very finest authentic Caribbean Cuisine. They would like for all of their guests to feel as though they are being transported through flavor to the shining Caribbean seas. So they used their experience in Retail Sales Management and Community Development Consulting to propel their love of Caribbean food. The Fearon's found the twelve acre lane just across from the Lambeth Town Hall and opened their doors right in the beating heart of Bixton. The Fearon's were particularly inspired by a particular cottage industry in Walkerswood, St. Anne's, Jamaica. This industry had previously specialized in the distribution of exclusive spices to local stores or groceries.
Then in 1998 they decided to branch out and distribute their spices to the biggest supermarkets in the United Kingdom but why stop there? They began to think about how wonderful it would be to have a restaurant that use their spices exclusively. Then the general public would have a chance to see how beautiful their spices can taste in authentic Jamaican foods. Bamboula became just that restaurant. They use only the very richest caribbean spices and shy away from any "fusion" from other cultures and cuisines. At Bamboula you will have the opportunity to try the most authentic Caribbean food in all of London.
Reviews
As a sit down restaurant and a take out place, Bamboula has gotten a reputation for its fantastic food all around the world. People have even been requesting take out from the United States of America!It wouldn't come as too terrible of a shock if Bamboula became a worldwide chain simply based on public outcry to have a Bamboula in their own backyard. What puts Bamboula over the top it's fantastic service. The Bamboula staff goes out of their way to provide their guests with a home away from home so they can enjoy some time away from the hussle and bussle of London. Guests are invited to luxuriate in a warm, welcoming atmosphere complete with great love music.
[Image]