Welcome to London! While you're here, you've obviously got to sample some world-famous fish and chips, complete with the newspaper wrapping and vinegar. However, London these days is so much more than just the stereotypical "cheerio" Englishman. There are dozens of cultures, and all of them have found a residence in London. One of these cultures is Cambodia, with native Cambodians creating new restaurants every year, sharing their culture and food with the rest of us. One of the best of these is the Lemongrass Restaurant, a little place off of Royal College Street.
About
This restaurant opened in 1987, with Thomas and Marilynn Tan as its owners. While it was always a small operation, the Tans have worked hard to make their dream a reality. While unable to completely recreate traditional Cambodian cuisine, Thomas Tan, a native of Cambodia, has done his best to make a contemporary version of his childhood meals.
After the devastating effects of the Khmer Rouge in the 1970's, Cambodian cuisine was nearly wiped out, with the oldest recipes lost to the depths as traditional cooks were killed. With this setback, it's amazing that someone like the Tans were able to recreate their home with such astounding accuracy.
Treats Galore!
If you've never had Cambodian food, or if you're a somewhat picky eater, then consider ordering their best appetizer, Treats Galore. It has a mix of various delicious Cambodian treats, and allows you to try something new without having to order an entire dish of it. It's great for finding new foods that you never knew you loved. Try some of their fresh rolled spring rolls, or their chicken satay, and enjoy with friends!
This is truly the one thing you'll just have to try when visiting, because there's something for everyone. Everyone who comes in and tries their treats galore has found a new taste to enjoy, and a new food to love, as well as recognizing more of the subtle Cambodian flavors lovingly cooked into each morsel.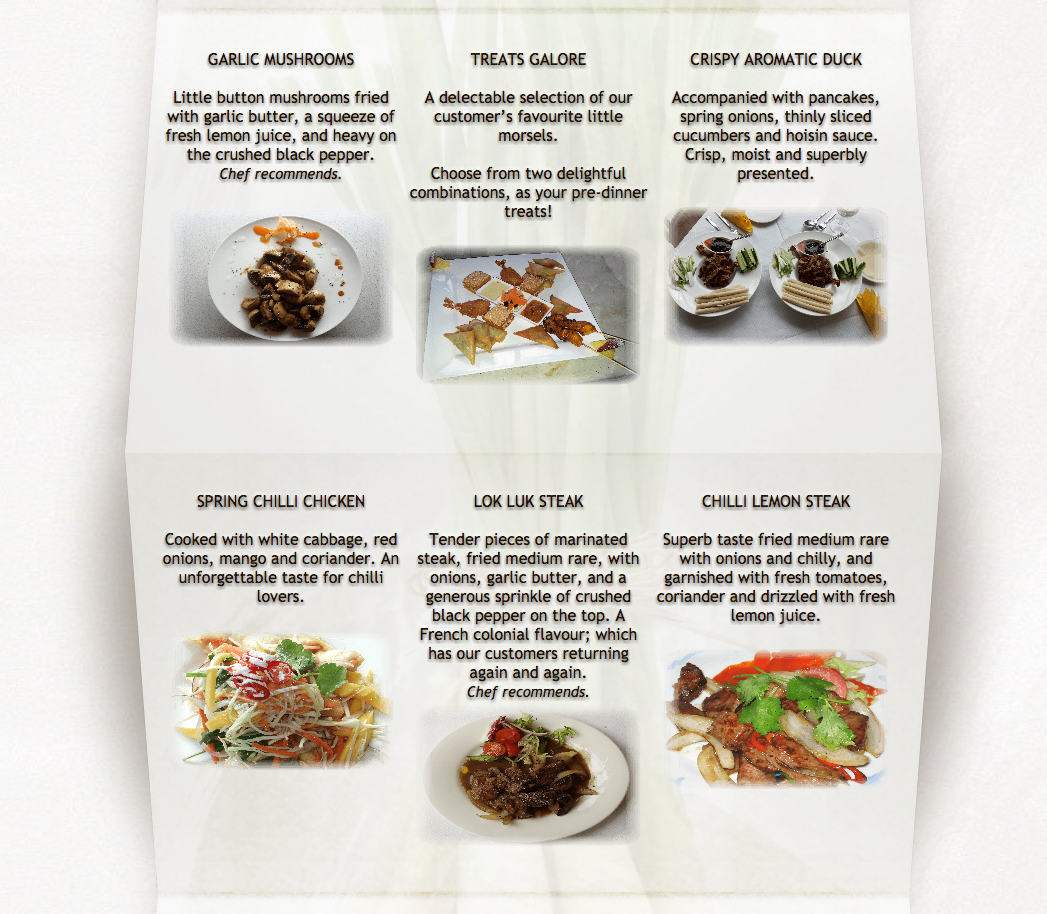 Vegetarians Welcome
With such an amazing array of fresh fruits and vegetables, it's no surprise that Lemongrass restaurant is more than accommodating for all vegetarians. Choose from their Vegetarian Set Feast, or from their Vegetable Main Dishes, and be assured that they're cooked completely separately from any meat. There's more than just one or two choices hiding in the back of the menu. There's an entirely separate section  The Tans have worked hard to create an open and welcoming restaurant to everyone, no matter your tastes or lifestyle!
Walk into this beautiful restaurant and visit Cambodia itself, with a fresh twist to every dish, making every visit new and original. It may not seem like much from the front, but inside, you'll find fresh and lovingly cooked food, cooked as soon as you order it, and not a moment before! Open from 5:30 PM to 11:00PM, Tuesday through Saturday, there's plenty of time for you to visit and enjoy a treat at the Lemongrass Restaurant, the best in Cambodian cuisine.
Have you been to the Lemongrass restaurant?