If you've ever visited New York's Financial District, you've probably been to the Dead Rabbit, the iconic Irish bar near Stone Street that the Spirited Awards recently named "The World's Best Bar." Well, now, it seems come February, you may be able to visit essentially the same bar… but way overseas.
According to the New York Post, the FiDi Dead Rabbit has a copycat, and the owners are not happy. Sean Muldoon and Jack McGarry are apparently trying to sue an Icelandic imitator for not only stealing the name, but also the cocktail list.
The Icelanders visited the Dead Rabbit during a trip to New York, and it was then that they bought the joint's cocktail book, and decided it was a good idea to open a very similar pub on their home turf in Reykjavik.
Muldoon and McGarry were in the dark about the happenings until a former employee of the Icelandic owners decided to let them know. "He told us the names of the owners and he basically said they checked into your bar (on Facebook while visiting it) two weeks before they closed (the Brooklyn Bar) and they're reopening as the Dead Rabbit," Muldoon told the Post.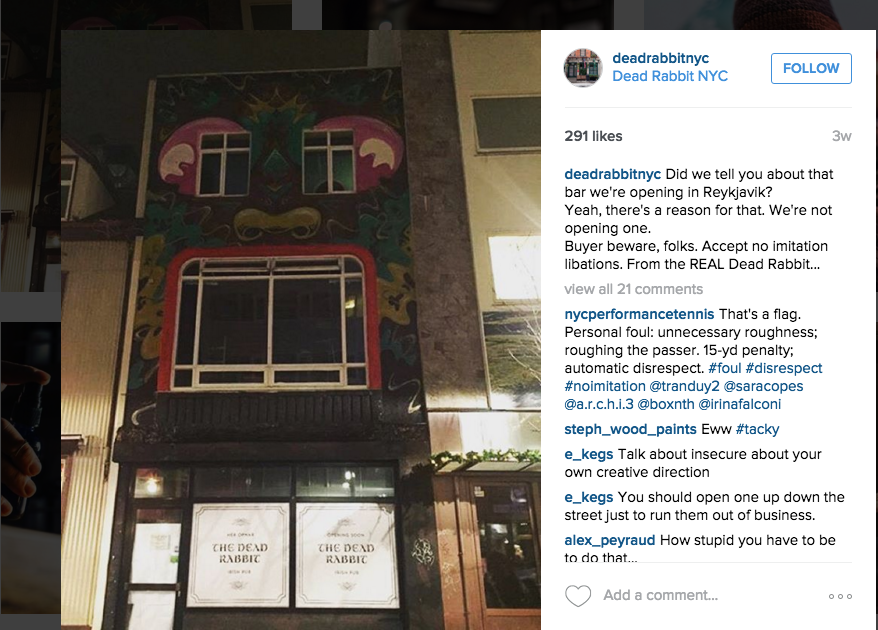 Muldoon and McGarry have trademarked the name Dead Rabbit in the United States, and are currently working to do the same in Europe. However, Iceland falls under neither jurisdiction, which will only make their case all the more difficult.
According to Iceland's Morgunblaðið newspaper, that Dead Rabbit is due to open in February. The owner of Dead Rabbit Austurstræti said he is doing nothing wrong. "They were not inventing the wheel," said Andrés Björnsson."They have no monopoly on this name."
He also stated that the feel of the bar will be completely different. Although, this does not put the New York guys at ease. "We've really, really bled for this place to make it what it is and unless it's being done to that same level, it worried us," Muldoon said. "If anyone's going to open another Dead Rabbit, we want it to be us."
Interestingly enough, there is also a Sushi Samba in Iceland, so does this mean the Nordic country is exempt from such trademarks? That is the question.
Have you been to the Dead Rabbit in New York?