For those of you who do not know what an upside down cake is, it is a cake with a layer of fruit on the bottom that gets flipped when it is done so that the fruit is on the top. The fruit goes into the bottom of the cake pan (whatever pan you use) and the cake batter is poured over the fruit. This Apple Molasses Upside-Down Cake is a delicious twist on the ordinary.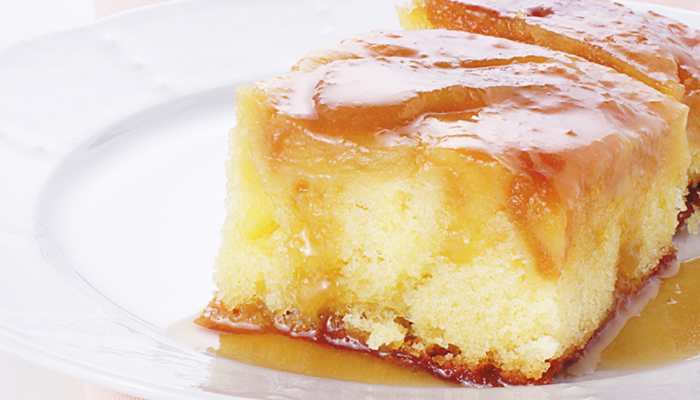 Apple-Molasses Upside-Down Cake Recipe:
First, preheat the oven to 350 degrees. While the oven is heating, melt 5 tablespoons of unsalted butter in a 10-inch cast-iron skillet and set aside. Next whisk 1 ¾ cups of all-purpose flour, 1 ½ teaspoons of kosher salt, 1 teaspoon of ground cinnamon, ¾ teaspoon of baking soda, and ½ teaspoon of baking powder.
In large bowl, whisk ¾ cup of mild-flavored (light) molasses, 1 large egg, 2 teaspoons of grated peeled ginger, and ¼ cup of sugar; whisk in 1/3 cup of sour cream and ¼ cup of whole milk. Then whisk in dry ingredients slowly, and add 3 of the 4 tablespoons of melted butter.
Set the mixture aside; then cut 3-4 Honey crisp or Pink Lady apples by slicing each side from top to bottom for four slices and leaving the square core. Add ¼ cup of sugar to the 2 tablespoons of butter in the cast iron skillet. Using medium-high heat cook for three minutes to allow the sugar to caramelize, then add apple slices, coating with the sugar mixture and cook for three minutes with the round side down, turn and cook another five minutes on the flat side. The apples should be soft and spread around evenly when you are done.
Pour the cake batter on top of the apples and bake on the middle rack of the oven for 30 to 45 minutes, or until a toothpick comes out with moist crumbs. Let the cake rest for 10 minutes, then place a plate over the top of the cake and flip, gently removing the skillet. The cake can be served immediately or at room temperature.
Will you try this Apple-Molasses Upside-Down Cake recipe?